Git and TDD
Kastoria TEI
IUT Orléans
Version Control Systems: Git
Plan:

Version control systems
Git, first steps
Agile and TDD
Tests
TDD demo
Problem 1
Keep track of code modifications day after day … and revert to a previous version if needed
Problem 2
share a developpement between several persons
allow remote accesses from various platforms
quickly find the origin of a Bug in case of regression
Problem 3
How to deal with distributions ?
↪ several versions can coexist ( developpement branches, beta branches, production branches )
Complexity
Or
A version control system
Acts on a file tree
Allows to pool and share a development
Stores any evolution of the source code
↪ Adds a new dimension to the file system: time
2 models
centralized
decentralized
Centralized 👹
SVN like
a single reference repository
need of synchronization
need of a server
frequent conflicts …
Decentralized 🔆
several repositories for the same software
everyone can work at their own pace
synchronized or not with others
Advantages of decentralized systems ⭐️
not dependent on a specific machine
work offline
progressive and "lean" participation in a project

access to the code
proposed contribution
become an active contributor if accepted
main repository
contains the delivered versions of a project
A repository or repo is a central location where are stored:

file version history
logs
dates, authors, tags, etc.
Repo 📂
A repository appears from the outside as a file system composed of directories in which we can navigate, read and write according to the permissions granted.
Master (or Trunck in SVN) 🌳
main version
from it, we can create branches
Branches 🌵
a "secondary" development is initiated
to develop a new feature
to fix a bug
Destiny of a branch
A branch can either be merged again into the "master"
disappear
or give rise to a new program. We speak then of fork ⑂
Checkout
is to get a copy of the existing files in a repository
The result is a working copy
Under git it also consists in choosing his branch (master, dev, etc.)
Commit ⛳️
git

 commit 

-m

 

"added a wonderful new feature"

    
or if you want to add at the same time all modifications on existing files :
git

 commit 

-am

 

"added a wonderful new feature"

    
Commit ⛳️
Update local copy and then remote repository
A new revision is created
the working copy must match the last version of the repository
a message is associated to the commit
possibly a tag
Merge
Merging 2 branches
Merging a branch with the master
merge illustrated
Conflicts 🤼‍♂️
some changes may be contradictory
for example, when two people made different changes to the same part of a file …
we must then resolve this conflict!
Diff
Displays the difference between two versions of a file
diff command (or kdiff for linux)
For more complicated cases:
Git
Most used
created by Linus Torvalds to manage the development of the Linux kernel
hundreds of contributors
Linux Kernel contributions
Git
base commands
alan

>

 git config 

--global

 user.name 

"Alan Turing "




alan

>

 git config 

--global

 user.email 

"alan@teiwm.gr"




alan

>

 git config 

--global

 core.editor code


alan

>

 git config 

-l
git help
bob

>

 git 

--help




bob

>

 git help 

-a




bob

>

 git help init
working with git
a .git folder appears

To see its contents :
git add
To add everything in the folder:
To add a specific file:
commit
atomic operation for the repo
not too small, not too big
single contribution
don't fix 3 bugs and develop 2 new features in the same commit !!
rm
don't rm a versioned file !

you can remove it under git control:
First demo
create a toy project
add a Readme.md
commit
change something
use git diff to show file differences
commit new version
git status, git log, etc.
Use a remote repository
Version a local directory with git
make a few commits
to publish your work:
git

 remote add origin https://gitlab.com/bob/myproject.git  
publish your work
git

 push 

-u

 origin master    
and when you'll have new content to publish, just do :
git status
Always do a git status to check :
if you have changes to commit
on which branch you are working
if you miss some commits from a remote
or the opposite: Your branch is ahead of 'origin/master' by 3 commits.
update (pull) 🔄
The update synchronizes the local working copy with the remote repository
git pull 🆕
retrieves the latest version of the remote repo files
on this occasion, version conflicts can appear :)
git workflow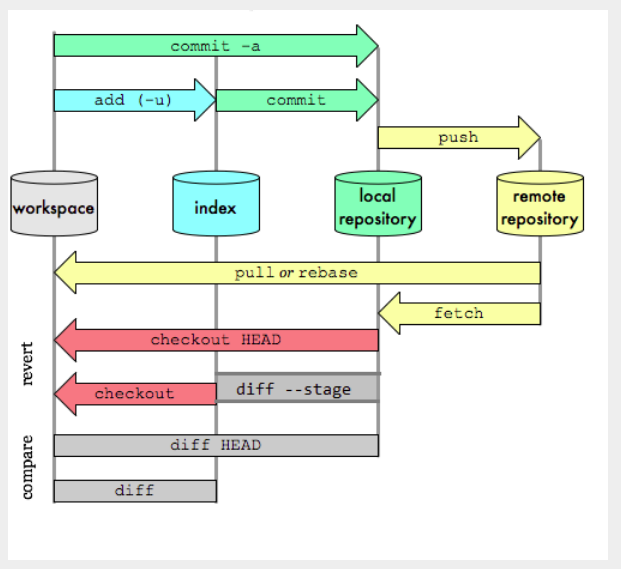 Famous places to host your git repos
ignore somme files
add and commit a new .gitignore file
containing a list of files or extensions you want to ignore (avoid versionning)
*.o
__pycache__
*.class
*~
Add other remotes
for example if you work with Alice:
git

 remote add https://gitlab.com/alice/newproject.git  
and list all remotes:
Create and use a branch
git

 branch db-integration
   

git

 checkout db-integration  
or in one line:
git

 checkout 

-b

 db-integration  
Contribute to a project
Choose a nice project (nodejs, ruby on rails, d3js, etc.) on github or gitlab
fork it on github
clone your fork in your workspace
choose a submited bug or a simple new feature needed See for example NodeJS Github repo
Contribute
create a branch to code the feature, test it
publish it on your repo
Submit a Pull Request or PR (Github) Submit a Merge Request or MR (Gitlab)
Wait for the verdict. If not accepted, go back to 5
Rejection motives 😭
branch does not merge
Code style, lack of comments
missing or failing tests
needs rebase
Continuous integration
some tests or programs can be automatically launched when new commits are pushed
gitlab-ci.yml in Gitlab
similar to Dockerfiles
examples at the end
TDD - Agile methods
Test-Driven Development
Kent Beck 2003
first concepts of extreme programming
part of "Agile methods"
Agile methods
Agile Methods are setting up new ways of organisation
Not only in Computer Science
Car industry, logistics, etc.
Best known agile methods
Pair Programming
Test Driven Development
Scrum

Scrum Master
Product Owner
Sprints
StandUp meetings
Standup Meetings
purpose of these meetings
Make a feedback
Plan and organise near future
Be in an "active" position
Backlogs (Todo lists)
Overloaded backlog
Scrum methodology
Scrum elements
Corner stones :

Backlog items
Tests
TDD and versionning

Groups:

Typicaly 4-5 people
but some projects involve hundreds of people (linux Kernel, OSes, etc.)
Corner stone: Tests
Different kinds of tests
examples
Why TDD ?
Different kinds of tests
In CS, a test is a partial verification procedure of a system
There is a huge diversity of tests, we will focus on the 3 main categories
Main types of tests
unit tests : that apply on method or function isolated from the rest of the system. (ie a function add(integer1, integer2) )
integration tests : like unit tests, but not isolated from the rest of the system
functionnal tests : a test on a feature (for example in a web application offering a calculator, to be able to add two integers)
examples
to test a function, we provide a list of (input / output)
to test a functionality, we can describe what is the expected behavior described by a User Story
See TDD with Python for many functional tests examplessezez
Examples for a calculus app
unit test: a call to add(1,2) returns 3
integration test : compute("1 + 2") returns 3. (See the difference ??)
functional test : if i type 1+2 in a Web form, and then press the Submit button, i will get 3 displayed in a green box.
a movie management app unit test
we make a call to a function searchActor("bruce",DB)
where DB is a mockup DataBase created with a unique movie without any Bruce
it should return null
a movie management app integration test
if we invoke add(new Film("Star Wars"))
then search movies containing "Star"
we should (at least) get "Star Wars" as result
a movie management app functional test
On my client home page:
When opening the home page, we see a search bar
we type "Star" and ENTER in this search Bar
We get the list of all Star Wars movies displayed in a green Box below
Why tests ?
When you code a function, you (almost) always test it, at least once, at least for one specific input …
but not extensively nor in a rigorous way
launch the program, see what happens on a few inputs
Why are you doing so ?
Why ?
you want to improve bug detection
you want to specify what you expect
when you write the function, you are thinking consciously or not to some example of function calls.
you are doing unit tests !!
User story
when you ask a client what an app should do, he might start telling you a story like: "When I come to the home page, I want to connect with my login and passwd and then consult my tasks for the day, …"
he is describing a functional test
Test Driven Development
if we formalize the idea of thinking first to input/output examples before coding
we get to the TDD :

define tests
then we code
Obey the testing Goat 🐏
TDD steps
Choose an item in the backlog
Create a simple test to check the expected functionnality
Write the test
Launch the test : check that it fails. Commit !
Write the minimal code to pass the test
Test it. if it's green, commit !
Refactor
Test the refactoring : launch again the tests. Commit !
Keep going (go back to step 1.) !
demo 2
Let's start with a backlog of features to implement and focus on unit tests !
Our Backlog: 2D-Points
Create a Point
get x-coordinate
get y-coordinate
Compare two points for equality
Don't forget the mantra
Some tests
def

 test_point_creation():


=

 point(

22

,

7

)
     p 


def

 test_access_x_and_y():


assert

 

22

 

==

 getx(p)
     

assert

 

7

 

==

 gety(p)    
commit !
First implementation of point
def

 point(x,y):


return

 [x,y]
     


def

 getx(p):


return

 p[

0

]
     


def

 gety(p):


return

 p[

1

]    
test. Commit !
Point refactoring as Object
class

 point:


def

 

__init__

(

self

,x,y):
     

self

.x 

=

 x
         

self

.y 

=

 y
         
     

def

 getx(

self

):
     

return

 

self

.x
         


def

 gety(

self

):
     

return

 

self

.y        
Refactor test
Change the test to match new API
test
commit !
Testing equality of points
def

 test_equality():


=

 point(

1

 ,

3

)
     p1 

=

 point(

1

 ,

3

)
     p2 

=

 point(

2

 ,

5

)
     p3 

assert

 p1 

==

 p1
     

assert

 p1 

==

 p2
     

assert

 p2 

==

 p1
     

assert

 p1 

!=

 p3    
new backlog
Create a rectangle object with 4 parmeters:

x,y : coords of the lower left corner of the rectangle
w,h: width and height of the rectangle

get x,y,x,h
get the position of rectangle's center
get the rectangle's area
first rectangle test
def

 test_creation():


=

 rectangle(

22

,

7

,

300

,

250

)
     r 

assert

 

22

 

==

 r.getx()
     

assert

 

7

 

==

 r.gety()
     

assert

 

300

 

==

 r.getw()
     

assert

 

250

 

==

 r.geth()    
Quality of tests
The tests must be orthogonal (independent of each other)
few, direct, stable, fast
should not concern private methods,
each behavior must be tested in one and only one test
do not make unnecessary assumptions (okham razor)
have good naming convention in your tests: a test name is an understandable phrase for every body (even non-programmers)
be careful 🚫
code architecture must allow unit tests
If it is not the case, it is because there is a problem of design in your code … (for example a function doing several things at the same time)
Bad tests can be more problematic than no test at all …
Automating tests
All languages ​​have developed unit test modules/libs
phpUnit for PHP
JUnit for Java
pytest or unnitest in Python
GoogleTest or Boost in C++